Meteo e previsioni del tempo per la tua città
Previsioni Meteo The Pas, Canada, America Settentrionale
Previsioni meteo per The Pas (CA), Canada, America Settentrionale
[Lat: 53.83 Lon: -101.25 Alt: 258 slm]
Top
Previsioni meteo Orarie per il: 2017-01-18
Il Tempo atteso per la Notte, la Mattina, il Pomeriggio e la Sera
Periodo
Tempo
Temperatura Min/Max
Precipitazioni e Probabilità
Vento
Umidità
Pressione
Zero Termico
Sera

Molto nuvoloso

.

Foschie dense o banchi di nebbia

-3

/

0

°C

< 10

%


0.0

mm

8

-

12

km/h

99

%

994

hPa

25

-

2600

m
Previsioni Orarie
Ora
Tempo
Temp
Temp Apparente
Pioggia o Neve
Vento
Umidità
Pressione
T850
Quota Neve
21:00

Nuvoloso

.

Foschie

-1.5

°C

-5.0

°C (

WC

)

0.0

mm

9.6

km/h


SSE

99

%

994

hPa

6.2

°C

0

m
Top
Previsioni meteo Orarie per il: 2017-01-19
Il Tempo atteso per la Notte, la Mattina, il Pomeriggio e la Sera
Periodo
Tempo
Temperatura Min/Max
Precipitazioni e Probabilità
Vento
Umidità
Pressione
Zero Termico
Notte

Velature o stratificazioni

.

Foschie dense o banchi di nebbia

-3

/

-2

°C

< 10

%


0.0

mm

7

-

8

km/h

98

%

994

hPa

0

-

25

m
Mattino

Velature o stratificazioni

.

Foschie dense o banchi di nebbia

-4

/

-1

°C

< 10

%


0.0

mm

5

-

8

km/h

98

%

995

hPa

0

-

1100

m
Pomeriggio

Velature o stratificazioni

.

Possibili nebbie

-6

/

0

°C

< 10

%


0.0

mm

2

-

6

km/h

99

%

997

hPa

25

-

1100

m
Sera

Nuvoloso per nubi medio-alte

.

-5

/

-1

°C

< 10

%


0.0

mm

3

-

8

km/h

98

%

999

hPa

25

-

475

m
Previsioni Orarie
Ora
Tempo
Temp
Temp Apparente
Pioggia o Neve
Vento
Umidità
Pressione
T850
Quota Neve
00:00

Velature o stratificazioni

.

Foschie

-2.7

°C

-5.9

°C (

WC

)

0.0

mm

8.0

km/h


S

98

%

993

hPa

7.3

°C

0

m
03:00

Velature o stratificazioni

.

Foschie

-3.0

°C

-6.0

°C (

WC

)

0.0

mm

7.3

km/h


SO

98

%

994

hPa

7.7

°C

0

m
06:00

Velature o stratificazioni

.

Foschie

-3.4

°C

-6.6

°C (

WC

)

0.0

mm

7.5

km/h


OSO

98

%

994

hPa

8.7

°C

0

m
09:00

Velature o stratificazioni

.

Possibili nebbie

-3.6

°C

-6.6

°C (

WC

)

0.0

mm

6.9

km/h


OSO

98

%

996

hPa

8.6

°C

0

m
12:00

Velature o stratificazioni

.

Foschie

-0.6

°C

-2.5

°C (

WC

)

0.0

mm

5.4

km/h


O

98

%

996

hPa

8.5

°C

850

m
15:00

Velature o stratificazioni

.

Foschie

-0.3

°C

-0.3

°C (

-

)

0.0

mm

2.5

km/h


ONO

99

%

997

hPa

8.5

°C

850

m
18:00

Velature o stratificazioni

.

Possibili nebbie

-4.9

°C

-4.9

°C (

-

)

0.0

mm

3.0

km/h


SE

99

%

999

hPa

7.8

°C

0

m
21:00

Nuvoloso per nubi medio-alte

.

-1.3

°C

-3.5

°C (

WC

)

0.0

mm

5.9

km/h


ESE

97

%

999

hPa

7.8

°C

200

m
Top
Previsioni meteo Orarie per il: 2017-01-20
Il Tempo atteso per la Notte, la Mattina, il Pomeriggio e la Sera
Periodo
Tempo
Temperatura Min/Max
Precipitazioni e Probabilità
Vento
Umidità
Pressione
Zero Termico
Notte

Nuvoloso per nubi medio-alte

.

-4

/

-1

°C

< 10

%


0.0

mm

7

-

9

km/h

98

%

999

hPa

0

-

75

m
Mattino

Nuvoloso

.

Nevischio o neve debole

-4

/

-1

°C

20

%


0.1

cm

8

-

14

km/h

99

%

1000

hPa

0

-

125

m
Pomeriggio

Coperto

.

Nevischio o neve debole

-1

/

0

°C

40

%


0.3

cm

11

-

14

km/h

98

%

1000

hPa

100

-

200

m
Sera

Coperto

.

Nevischio o neve debole

-3

/

-1

°C

20

%


0.2

cm

9

-

14

km/h

98

%

1000

hPa

0

-

100

m
Previsioni Orarie
Ora
Tempo
Temp
Temp Apparente
Pioggia o Neve
Vento
Umidità
Pressione
T850
Quota Neve
00:00

Nuvoloso per nubi medio-alte

.

-1.3

°C

-4.0

°C (

WC

)

0.0

mm

7.1

km/h


ESE

98

%

999

hPa

7.1

°C

0

m
03:00

Nuvoloso per nubi medio-alte

.

-2.5

°C

-5.8

°C (

WC

)

0.0

mm

8.2

km/h


ESE

98

%

1000

hPa

6.6

°C

0

m
06:00

Nuvoloso per nubi medio-alte

.

-3.8

°C

-7.5

°C (

WC

)

0.0

mm

8.9

km/h


ESE

99

%

999

hPa

6.5

°C

0

m
09:00

Velature o stratificazioni

.

Foschie dense o banchi di nebbia

-3.9

°C

-8.1

°C (

WC

)

0.0

mm

10.3

km/h


ESE

99

%

1000

hPa

6.3

°C

0

m
12:00

Nuvoloso

.

Nevischio o neve debole

-0.9

°C

-5.3

°C (

WC

)

0.1

cm

13.7

km/h


ESE

99

%

1000

hPa

6.1

°C

0

m
15:00

Coperto

.

Nevischio o neve debole

-0.3

°C

-4.1

°C (

WC

)

0.1

cm

11.5

km/h


ESE

98

%

999

hPa

6.3

°C

0

m
18:00

Coperto

.

Nevischio o neve debole

-1.0

°C

-5.4

°C (

WC

)

0.2

cm

13.9

km/h


ESE

98

%

1000

hPa

5.0

°C

0

m
21:00

Coperto

.

Nevischio o neve debole

-2.2

°C

-6.4

°C (

WC

)

0.1

cm

11.6

km/h


ESE

98

%

1000

hPa

4.3

°C

0

m
Top
Previsioni meteo Orarie per il: 2017-01-21
Il Tempo atteso per la Notte, la Mattina, il Pomeriggio e la Sera
Periodo
Tempo
Temperatura Min/Max
Precipitazioni e Probabilità
Vento
Umidità
Pressione
Zero Termico
Notte

Coperto

.

Nevischio o neve debole

-3

/

0

°C

20

%


0.2

cm

9

-

11

km/h

99

%

1001

hPa

0

-

200

m
Mattino

Coperto

.

Neve

0

/

0

°C

80

%


3.6

cm

8

-

11

km/h

99

%

1002

hPa

200

-

325

m
Pomeriggio

Coperto

.

Nevischio o neve debole

0

/

1

°C

40

%


0.3

cm

5

-

8

km/h

100

%

1003

hPa

250

-

375

m
Sera

Coperto

.

Nevischio o neve debole

-1

/

0

°C

40

%


0.3

cm

3

-

6

km/h

99

%

1006

hPa

150

-

250

m
Previsioni Orarie
Ora
Tempo
Temp
Temp Apparente
Pioggia o Neve
Vento
Umidità
Pressione
T850
Quota Neve
00:00

Coperto

.

Nevischio o neve debole

-2.6

°C

-6.4

°C (

WC

)

0.1

cm

9.9

km/h


ESE

99

%

1001

hPa

2.9

°C

0

m
03:00

Coperto

.

-1.3

°C

-4.8

°C (

WC

)

0.0

mm

9.9

km/h


ESE

99

%

1001

hPa

-0.1

°C

0

m
06:00

Coperto

.

Nevischio o neve debole

-0.3

°C

-3.8

°C (

WC

)

0.2

cm

10.4

km/h


ESE

99

%

1001

hPa

-2.3

°C

0

m
09:00

Coperto

.

Nevischio o neve debole

-0.3

°C

-3.3

°C (

WC

)

1.5

cm

8.8

km/h


ESE

99

%

1002

hPa

-2.7

°C

0

m
12:00

Coperto

.

Neve

0.3

°C

-2.4

°C (

WC

)

2.1

cm

8.0

km/h


ESE

100

%

1002

hPa

-2.5

°C

0

m
15:00

Molto nuvoloso

.

Nevischio o neve debole

0.4

°C

-1.9

°C (

WC

)

0.1

cm

6.8

km/h


ESE

100

%

1003

hPa

-2.0

°C

0

m
18:00

Coperto

.

Nevischio o neve debole

-0.1

°C

-2.0

°C (

WC

)

0.2

cm

5.6

km/h


E

99

%

1004

hPa

-1.8

°C

0

m
21:00

Coperto

.

Nevischio o neve debole

-0.6

°C

-0.6

°C (

-

)

0.1

cm

4.0

km/h


E

99

%

1006

hPa

-2.1

°C

0

m
Top
Previsioni meteo Orarie per il: 2017-01-22
Il Tempo atteso per la Notte, la Mattina, il Pomeriggio e la Sera
Periodo
Tempo
Temperatura Min/Max
Precipitazioni e Probabilità
Vento
Umidità
Pressione
Zero Termico
Notte

Coperto

.

Nevischio o neve debole

-2

/

0

°C

20

%


0.2

cm

3

-

5

km/h

99

%

1008

hPa

100

-

150

m
Mattino

Coperto

.

Nevischio o neve debole

-1

/

0

°C

20

%


0.2

cm

3

-

5

km/h

99

%

1011

hPa

125

-

300

m
Pomeriggio

Coperto

.

Nevischio o neve debole

-1

/

1

°C

40

%


0.3

cm

3

-

5

km/h

100

%

1011

hPa

175

-

325

m
Sera

Coperto

.

Nevischio o neve debole

-2

/

0

°C

20

%


0.1

cm

4

-

5

km/h

99

%

1011

hPa

50

-

175

m
Previsioni Orarie
Ora
Tempo
Temp
Temp Apparente
Pioggia o Neve
Vento
Umidità
Pressione
T850
Quota Neve
00:00

Coperto

.

Nevischio o neve debole

-0.9

°C

-0.9

°C (

-

)

0.2

cm

3.6

km/h


ENE

99

%

1007

hPa

-2.2

°C

0

m
03:00

Coperto

.

Nevischio o neve debole

-1.1

°C

-1.1

°C (

-

)

0.1

cm

4.2

km/h


ENE

99

%

1008

hPa

-2.2

°C

0

m
06:00

Coperto

.

Nevischio o neve debole

-0.9

°C

-0.9

°C (

-

)

0.1

cm

4.4

km/h


NNE

99

%

1010

hPa

-2.6

°C

0

m
09:00

Coperto

.

Nevischio o neve debole

-1.0

°C

-1.0

°C (

-

)

0.1

cm

4.0

km/h


NNE

99

%

1011

hPa

-3.3

°C

0

m
12:00

Coperto

.

Nevischio o neve debole

0.3

°C

0.3

°C (

-

)

0.1

cm

3.6

km/h


N

100

%

1011

hPa

-3.4

°C

0

m
15:00

Coperto

.

Nevischio o neve debole

0.4

°C

0.4

°C (

-

)

0.1

cm

4.2

km/h


N

100

%

1011

hPa

-3.9

°C

0

m
18:00

Coperto

.

Nevischio o neve debole

-0.5

°C

-0.5

°C (

-

)

0.2

cm

4.6

km/h


NNE

99

%

1012

hPa

-4.4

°C

0

m
21:00

Coperto

.

-0.9

°C

-0.9

°C (

-

)

0.0

mm

4.8

km/h


NE

99

%

1011

hPa

-4.5

°C

0

m
Top
Previsioni meteo Orarie per il: 2017-01-23
Il Tempo atteso per la Notte, la Mattina, il Pomeriggio e la Sera
Periodo
Tempo
Temperatura Min/Max
Precipitazioni e Probabilità
Vento
Umidità
Pressione
Zero Termico
Notte

Coperto

.

Nevischio o neve debole

-2

/

-1

°C

70

%


1.4

cm

4

-

7

km/h

99

%

1010

hPa

25

-

75

m
Mattino

Coperto

.

Nevischio o neve debole

-2

/

0

°C

70

%


1.6

cm

4

-

7

km/h

99

%

1009

hPa

25

-

250

m
Pomeriggio

Molto nuvoloso

.

Nevischio o neve debole

-2

/

0

°C

70

%


0.9

cm

3

-

5

km/h

99

%

1008

hPa

75

-

275

m
Sera

Coperto

.

Nevischio o neve debole

-3

/

-1

°C

50

%


0.5

cm

1

-

4

km/h

99

%

1009

hPa

0

-

75

m
Previsioni Orarie
Ora
Tempo
Temp
Temp Apparente
Pioggia o Neve
Vento
Umidità
Pressione
T850
Quota Neve
00:00

Coperto

.

Nevischio o neve debole

-1.4

°C

-1.4

°C (

-

)

0.1

cm

4.5

km/h


NE

99

%

1010

hPa

-3.7

°C

0

m
03:00

Coperto

.

Nevischio o neve debole

-1.2

°C

-1.2

°C (

-

)

0.4

cm

4.8

km/h


NNE

99

%

1010

hPa

-3.7

°C

0

m
06:00

Coperto

.

Nevischio o neve debole

-1.7

°C

-4.3

°C (

WC

)

1.0

cm

6.7

km/h


NNE

99

%

1010

hPa

-3.5

°C

0

m
09:00

Molto nuvoloso

.

Nevischio o neve debole

-1.4

°C

-3.3

°C (

WC

)

0.5

cm

5.2

km/h


NE

99

%

1009

hPa

-4.0

°C

0

m
12:00

Coperto

.

Nevischio o neve debole

-0.1

°C

-0.1

°C (

-

)

1.1

cm

4.2

km/h


NE

99

%

1008

hPa

-4.2

°C

0

m
15:00

Molto nuvoloso

.

Nevischio o neve debole

0.2

°C

0.2

°C (

-

)

0.4

cm

3.9

km/h


NNE

100

%

1007

hPa

-4.4

°C

0

m
18:00

Molto nuvoloso

.

Nevischio o neve debole

-1.3

°C

-1.3

°C (

-

)

0.5

cm

3.9

km/h


NE

99

%

1008

hPa

-4.5

°C

0

m
21:00

Coperto

.

Nevischio o neve debole

-1.5

°C

-1.5

°C (

-

)

0.2

cm

1.6

km/h


ENE

99

%

1009

hPa

-4.9

°C

0

m
Top
Previsioni meteo Orarie per il: 2017-01-24
Il Tempo atteso per la Notte, la Mattina, il Pomeriggio e la Sera
Periodo
Tempo
Temperatura Min/Max
Precipitazioni e Probabilità
Vento
Umidità
Pressione
Zero Termico
Notte

Molto nuvoloso

.

Nevischio o neve debole

-4

/

-2

°C

40

%


0.3

cm

1

-

6

km/h

99

%

1011

hPa

0

-

0

m
Mattino

Molto nuvoloso

.

Nevischio o neve debole

-5

/

-1

°C

20

%


0.2

cm

5

-

9

km/h

99

%

1014

hPa

0

-

75

m
Pomeriggio

Coperto

.

Nevischio o neve debole

-3

/

-1

°C

40

%


0.3

cm

8

-

11

km/h

98

%

1017

hPa

0

-

75

m
Sera

Coperto

.

Nevischio o neve debole

-5

/

-3

°C

20

%


0.2

cm

9

-

10

km/h

99

%

1020

hPa

0

-

0

m
Previsioni Orarie
Ora
Tempo
Temp
Temp Apparente
Pioggia o Neve
Vento
Umidità
Pressione
T850
Quota Neve
00:00

Molto nuvoloso

.

Nevischio o neve debole

-3.2

°C

-3.2

°C (

-

)

0.3

cm

1.9

km/h


N

99

%

1009

hPa

-4.7

°C

0

m
03:00

Molto nuvoloso

.

Nevischio o neve debole

-2.4

°C

-2.4

°C (

-

)

0.1

cm

3.2

km/h


ONO

99

%

1011

hPa

-5.2

°C

0

m
06:00

Molto nuvoloso

.

Nevischio o neve debole

-2.5

°C

-4.8

°C (

WC

)

0.2

cm

5.8

km/h


ONO

99

%

1012

hPa

-5.1

°C

0

m
09:00

Nuvoloso

.

-4.1

°C

-6.8

°C (

WC

)

0.0

mm

6.2

km/h


ONO

99

%

1014

hPa

-5.4

°C

0

m
12:00

Molto nuvoloso

.

Nevischio o neve debole

-1.3

°C

-4.5

°C (

WC

)

0.2

cm

8.6

km/h


ONO

99

%

1015

hPa

-6.7

°C

0

m
15:00

Coperto

.

Nevischio o neve debole

-1.4

°C

-5.2

°C (

WC

)

0.1

cm

10.8

km/h


ONO

98

%

1016

hPa

-6.7

°C

0

m
18:00

Coperto

.

Nevischio o neve debole

-2.7

°C

-6.4

°C (

WC

)

0.2

cm

9.5

km/h


ONO

98

%

1019

hPa

-6.5

°C

0

m
21:00

Coperto

.

Nevischio o neve debole

-3.8

°C

-7.9

°C (

WC

)

0.1

cm

10.0

km/h


ONO

99

%

1020

hPa

-6.8

°C

0

m
Top
Previsioni meteo Orarie per il: 2017-01-25
Il Tempo atteso per la Notte, la Mattina, il Pomeriggio e la Sera
Periodo
Tempo
Temperatura Min/Max
Precipitazioni e Probabilità
Vento
Umidità
Pressione
Zero Termico
Notte

Molto nuvoloso

.

-10

/

-4

°C

< 10

%


0.0

mm

6

-

10

km/h

99

%

1022

hPa

0

-

0

m
Mattino

Sereno

.

Foschie

-11

/

-6

°C

< 10

%


0.0

mm

5

-

7

km/h

99

%

1022

hPa

0

-

0

m
Pomeriggio

Nubi e schiarite

.

Foschie dense o banchi di nebbia

-6

/

-4

°C

< 10

%


0.0

mm

6

-

10

km/h

98

%

1018

hPa

0

-

0

m
Sera

Molto nuvoloso

.

-5

/

-3

°C

< 10

%


0.0

mm

7

-

9

km/h

99

%

1014

hPa

0

-

0

m
Previsioni Orarie
Ora
Tempo
Temp
Temp Apparente
Pioggia o Neve
Vento
Umidità
Pressione
T850
Quota Neve
00:00

Coperto

.

Nevischio o neve debole

-4.6

°C

-8.8

°C (

WC

)

0.1

cm

9.9

km/h


ONO

99

%

1021

hPa

-6.8

°C

0

m
03:00

Molto nuvoloso

.

-6.5

°C

-10.8

°C (

WC

)

0.0

mm

9.2

km/h


ONO

99

%

1022

hPa

-6.9

°C

0

m
06:00

Nuvoloso

.

-9.4

°C

-13.3

°C (

WC

)

0.0

mm

6.9

km/h


ONO

99

%

1022

hPa

-6.7

°C

0

m
09:00

Sereno

.

Foschie dense o banchi di nebbia

-10.5

°C

-14.0

°C (

WC

)

0.0

mm

5.9

km/h


OSO

99

%

1022

hPa

-5.9

°C

0

m
12:00

Sereno

.

Foschie

-6.2

°C

-9.6

°C (

WC

)

0.0

mm

6.9

km/h


SSO

98

%

1021

hPa

-5.2

°C

0

m
15:00

Nubi e schiarite

.

Foschie

-4.0

°C

-7.9

°C (

WC

)

0.0

mm

9.3

km/h


SSO

98

%

1018

hPa

-3.7

°C

0

m
18:00

Nubi e schiarite

.

Foschie

-4.7

°C

-8.4

°C (

WC

)

0.0

mm

8.5

km/h


SSO

99

%

1016

hPa

-2.3

°C

0

m
21:00

Molto nuvoloso

.

-4.1

°C

-7.5

°C (

WC

)

0.0

mm

7.8

km/h


SO

98

%

1014

hPa

-1.4

°C

0

m
Top
Previsioni meteo Orarie per il: 2017-01-26
Il Tempo atteso per la Notte, la Mattina, il Pomeriggio e la Sera
Periodo
Tempo
Temperatura Min/Max
Precipitazioni e Probabilità
Vento
Umidità
Pressione
Zero Termico
Notte

Nuvoloso

.

Nevischio o neve debole

-5

/

-3

°C

20

%


0.1

cm

7

-

9

km/h

99

%

1012

hPa

0

-

0

m
Mattino

Coperto

.

Nevischio o neve debole

-3

/

0

°C

20

%


0.2

cm

8

-

13

km/h

99

%

1010

hPa

0

-

350

m
Pomeriggio

Nuvoloso

.

0

/

1

°C

< 10

%


0.0

mm

12

-

16

km/h

99

%

1007

hPa

350

-

975

m
Sera

Sereno

.

-2

/

1

°C

< 10

%


0.0

mm

15

-

20

km/h

96

%

1003

hPa

0

-

975

m
Previsioni Orarie
Ora
Tempo
Temp
Temp Apparente
Pioggia o Neve
Vento
Umidità
Pressione
T850
Quota Neve
00:00

Nuvoloso

.

-4.4

°C

-8.1

°C (

WC

)

0.0

mm

8.4

km/h


O

99

%

1012

hPa

-2.2

°C

0

m
03:00

Nuvoloso

.

-4.4

°C

-7.8

°C (

WC

)

0.0

mm

7.6

km/h


O

99

%

1012

hPa

-3.2

°C

0

m
06:00

Molto nuvoloso

.

Nevischio o neve debole

-2.8

°C

-6.1

°C (

WC

)

0.1

cm

8.1

km/h


O

99

%

1011

hPa

-1.5

°C

0

m
09:00

Coperto

.

-2.1

°C

-5.9

°C (

WC

)

0.0

mm

10.3

km/h


O

99

%

1010

hPa

-1.0

°C

0

m
12:00

Coperto

.

Nevischio o neve debole

0.3

°C

-3.5

°C (

WC

)

0.2

cm

12.4

km/h


O

99

%

1009

hPa

0.1

°C

0

m
15:00

Nuvoloso

.

0.6

°C

-3.3

°C (

WC

)

0.0

mm

12.9

km/h


O

100

%

1007

hPa

0.4

°C

500

m
18:00

Nuvoloso

.

0.4

°C

-4.0

°C (

WC

)

0.0

mm

15.4

km/h


O

97

%

1005

hPa

-1.8

°C

650

m
21:00

Sereno

.

-0.1

°C

-5.2

°C (

WC

)

0.0

mm

19.1

km/h


O

96

%

1003

hPa

-5.5

°C

0

m
Top
Previsioni meteo Orarie per il: 2017-01-27
Il Tempo atteso per la Notte, la Mattina, il Pomeriggio e la Sera
Periodo
Tempo
Temperatura Min/Max
Precipitazioni e Probabilità
Vento
Umidità
Pressione
Zero Termico
Notte

Molto nuvoloso

.

Nevischio o neve debole

-2

/

0

°C

70

%


1.7

cm

19

-

26

km/h

96

%

1001

hPa

0

-

400

m
Mattino

Coperto

.

Nevischio o neve debole

-2

/

0

°C

70

%


1.4

cm

23

-

26

km/h

96

%

1005

hPa

50

-

400

m
Pomeriggio

Coperto

.

Nevischio o neve debole

-3

/

-1

°C

70

%


0.6

cm

16

-

24

km/h

95

%

1013

hPa

0

-

50

m
Sera

Coperto

.

Nevischio o neve debole

-5

/

-3

°C

40

%


0.4

cm

14

-

17

km/h

96

%

1018

hPa

0

-

0

m
Previsioni Orarie
Ora
Tempo
Temp
Temp Apparente
Pioggia o Neve
Vento
Umidità
Pressione
T850
Quota Neve
00:00

Sereno

.

-2.0

°C

-7.8

°C (

WC

)

0.0

mm

19.9

km/h


ONO

95

%

1001

hPa

-7.2

°C

0

m
03:00

Molto nuvoloso

.

Nevischio o neve debole

-0.5

°C

-6.1

°C (

WC

)

0.5

cm

21.4

km/h


ONO

96

%

1000

hPa

-6.5

°C

0

m
06:00

Molto nuvoloso

.

Nevischio o neve debole

0.4

°C

-5.5

°C (

WC

)

1.2

cm

25.9

km/h


NO

96

%

1001

hPa

-6.1

°C

0

m
09:00

Coperto

.

Nevischio o neve debole

-0.5

°C

-6.5

°C (

WC

)

0.4

cm

24.6

km/h


NO

96

%

1004

hPa

-7.0

°C

0

m
12:00

Coperto

.

Nevischio o neve debole

-1.5

°C

-7.7

°C (

WC

)

1.0

cm

23.8

km/h


NNO

95

%

1009

hPa

-9.3

°C

0

m
15:00

Coperto

.

Nevischio o neve debole

-1.7

°C

-7.6

°C (

WC

)

0.2

cm

21.6

km/h


NNO

95

%

1013

hPa

-9.5

°C

0

m
18:00

Coperto

.

Nevischio o neve debole

-2.7

°C

-8.0

°C (

WC

)

0.4

cm

16.1

km/h


NO

96

%

1016

hPa

-11.3

°C

0

m
21:00

Coperto

.

Nevischio o neve debole

-4.2

°C

-9.8

°C (

WC

)

0.1

cm

15.8

km/h


NO

96

%

1019

hPa

-12.0

°C

0

m
Top
Previsioni meteo Orarie per il: 2017-01-28
Il Tempo atteso per la Notte, la Mattina, il Pomeriggio e la Sera
Periodo
Tempo
Temperatura Min/Max
Precipitazioni e Probabilità
Vento
Umidità
Pressione
Zero Termico
Notte

Coperto

.

Nevischio o neve debole

-8

/

-5

°C

70

%


0.6

cm

14

-

21

km/h

96

%

1022

hPa

0

-

0

m
Previsioni Orarie
Ora
Tempo
Temp
Temp Apparente
Pioggia o Neve
Vento
Umidità
Pressione
T850
Quota Neve
00:00

Coperto

.

Nevischio o neve debole

-5.1

°C

-10.7

°C (

WC

)

0.3

cm

14.9

km/h


NO

96

%

1020

hPa

-12.2

°C

0

m
03:00

Coperto

.

Nevischio o neve debole

-6.0

°C

-12.4

°C (

WC

)

0.2

cm

17.9

km/h


NO

96

%

1021

hPa

-15.5

°C

0

m
06:00

Coperto

.

Nevischio o neve debole

-8.2

°C

-15.7

°C (

WC

)

0.4

cm

20.5

km/h


NNO

95

%

1024

hPa

-17.3

°C

0

m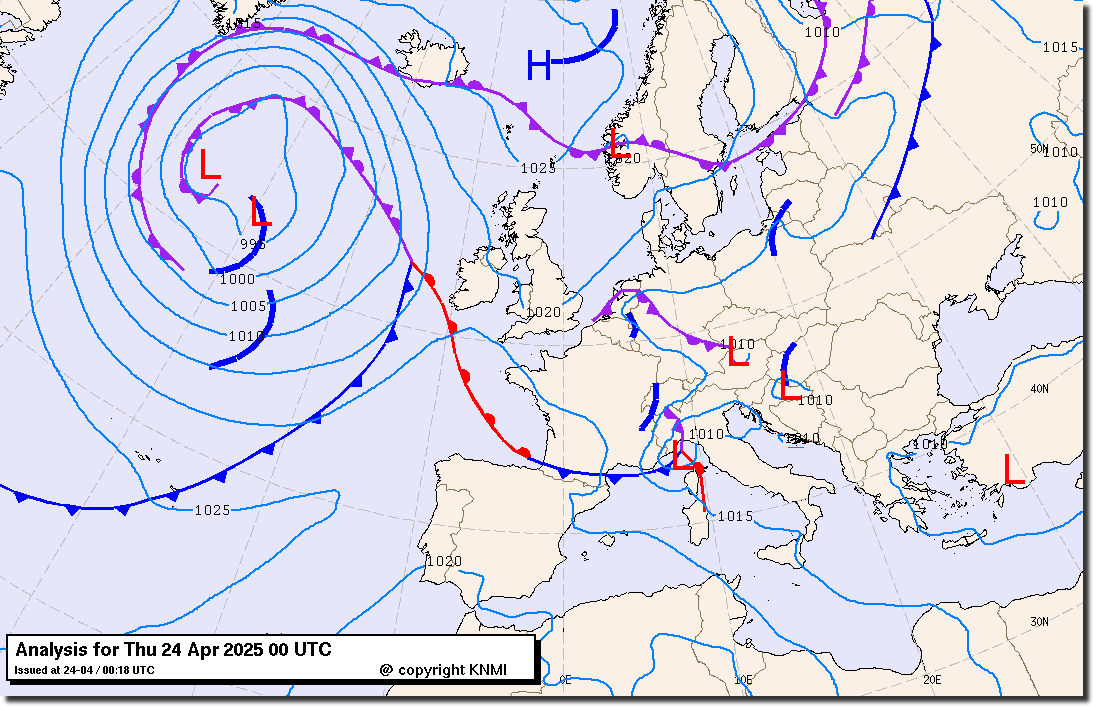 Le previsioni del tempo per The Pas, Canada, America Settentrionale. Latitudine: 53.83, Longitudine: -101.25, Altitudine: 258 m slm.

Le previsioni meteo con pioggia, neve, vento, la stima delle temperature previste e altri parametri visualizzabili in forma grafica, selezionabili e con i dati che possono essere letti passandoci sopra con il mouse. Oppure si possono visualizzare le previsioni di The Pas con la classica tabella giornaliera e oraria, divisa nei vari giorni.

Per una migliore interpretazione previsionale suggeriamo di osservare anche l'intera regione, in questo caso le previsioni meteo Regionali (mappe disponibili per l'Italia). Vedi anche le mappe meteo nazionali o le carte dei modelli di previsione numerica. Questa invece la legenda dei simboli.

Vuoi le nostre carte o previsioni sul tuo sito? Clicca qui!
(*)
Avvertenze d'uso
: le previsioni del tempo non sono altro che una
stima
dell'
evoluzione meteorologica futura, sulla base dei dati attuali e sull'interpretazione dei parametri previsti dai modelli fisico-matematici.
Tali previsioni si realizzano a partire dai modelli matematici e i risultati grezzi vengono post-elaborati con un insieme di regole applicate in base alla nostra esperienza. G
li errori e le imprecisioni introdotti nella fase di acquisizione dati (
assimilazione
) e nella successiva fase di elaborazione (
simulazione
) da parte dei modelli, rendono necessario un continuo aggiornamento dei dati a disposizione. La precisione, comunque limitata ed in generale estremamente approssimata, di previsioni così "puntuali" nello spazio e nel tempo, si degrada poi velocemente man mano che si allontana l'orizzonte temporale che si intende prevedere.

Per questo invitiamo ad
osservare anche le aree limitrofe alla zona d'interesse per una maggiore visione d'insieme, a leggere con attenzione le spiegazioni riportate nei testi e a consultare i risultati
sia su scala nazionale che regionale

, aggiornati 4 volte al giorno. Diffidate da chi vi propina "fantastiche" previsioni dettagliate addirittura fino a 15 giorni o più, che hanno un'attendibilità inferiore al lancio di una monetina.

Ricordando il carattere probabilistico delle previsioni del tempo (o, meglio, "proiezioni" del tempo) e se esse vengono confermate ad ogni aggiornamento, allora nel prendere decisioni sulla base di queste la stragrande maggioranza delle volte avrete fatto la scelta giusta.

Per saperne di più: i segreti dei modelli e più in generale i tanti articoli presenti sul nostro sito.